information
Covid-19
RELAX IN PARAÍSO CENTRO!
YOU WILL BE AS SAFE AS AT HOME, OR MORE
At this time, what one appreciates the most is SAFETY and having the tranquility of their loved ones, of their entire family and environment with whom they interact on a daily basis in order to be able to control as far as possible the measures and precautions that take before problems like the current COVID19.
Thus, we have made a great effort and taken time to reflect on what could be the best actions to take so that all of the aforementioned is fulfilled and consequently we have arranged the following actions.
HYGIENE AND SAFETY PROTOCOL
We follow the protocol indicated by the Ministry of Health and the ICTE (Spanish Institute of Tourist Quality). We have adopted all the necessary HYGIENE sanitary standards to have a High level of SAFETY for our Clients during their stay in our apartments, which we will highlight: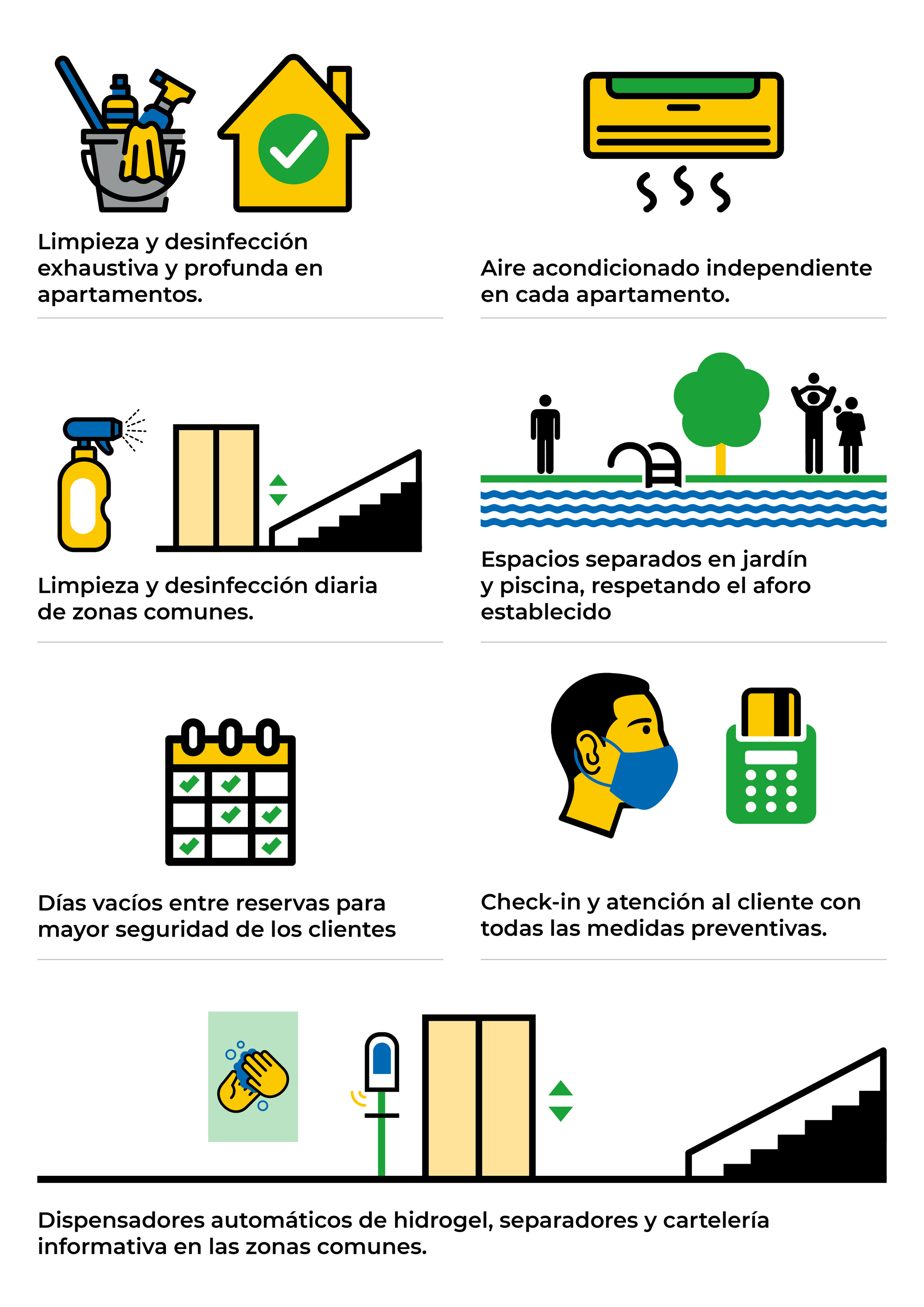 - Thorough and thorough cleaning and disinfection in apartments, both on surfaces and on household goods and appliances, as well as on textiles and furniture, using virucidal products indicated and tested against COVID19.
- The installation of the air conditioning system is independent in each apartment without sharing ducts with others, giving the security of not exchanging environments with others.
- Daily cleaning and disinfection of common areas, grass, frequently used pavements such as hall, access corridors, parking, stairs, elevators, community furniture such as knobs, cranks, keypads, ...
- Separate spaces have been arranged in the garden with the minimum distance established respecting a capacity for tranquility of the guests around the pool and the bathroom in it.
- In order that everyone can enjoy the bath with tranquility, depending on the occupation, shifts would be established in the garden and pool, respecting the established capacity, so that they do not have to worry about meeting many people in their environment rest and bath.
- Between reservations, and once the apartment has been disinfected when the Clients leave, we leave the same void for a few days for greater peace of mind and security for the following Clients.
- Check-in and customer service with all the preventive measures adopted to avoid having any close contact between Employees and Customers, such as protection and separation screens, digital signature, card payments, sterilized security welcome kit, delivery of keys disinfected, use of mandatory masks always in common areas and in direct care.
- Sanitation devices have been established such as automatic hydrogel dispensers, as well as separators and posters throughout the common areas of the sanitary standards decreed by the Ministry of Health, the ICTE and recommended by the WHO.
HYGIENE AND SAFETY PROTOCOL
Now you know that we have everything under control and that nothing inside our apartments or in the urbanization is left to chance. When you come, you will feel calm as at home.
Now you can come for short stays, spend a few days and see that you return home rested and without having worried about staying in the apartment.
Safe holidays like home!